I know I promised a post with pictures today - but the day is almost over and I'm just now able to sit down and blog - so I'm saving that post for tomorrow morning and giving you this one instead. It has a link to some really cool pictures though. I know, I've been a bad little blogger this week. I will endeavor to shape up.

So tonight hubby and I went to the Kid Rock Concert at the Eagles Ballroom. Great concert - a nice stripped down version (pun intended) of his larger stadium shows that really allowed the music and performance to take the lead, not some of the distractions he has been pumping them full with in recent years. Hubby estimates we have been to about 8 or 9 of his shows (in four different states), and I would count this in the top three, he would not, for those of you who care. Reverend Run also appeared, with great results. But the real beef of this post is the ballroom itself.

Have you seen this place? I've been to dozens of concerts here (well almost dozens) and each time I am taken by the beauty that this ballroom and the whole building must have once possessed. In the dim and jazzy lighting of a concert, you can easily be taken in by the proportions and scale of everything all around you. It is an awesome venue for a concert, no doubt, and I will forever be mesmerized by the juxtaposition of the elegant vintage ballroom with hard rock concert. But what has been done to this venue since it's hey-day really is sad.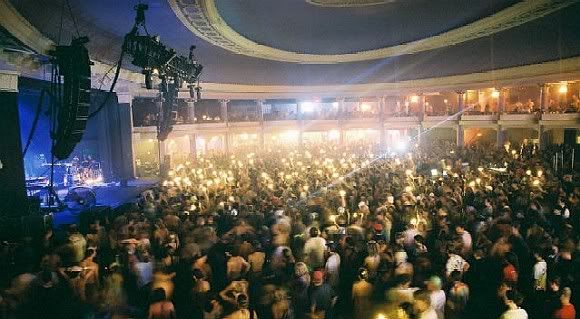 Hubby and I actually considered the Eagles Ballroom for our wedding reception. By considered, I mean it was one on a short list of possibly acceptable Milwaukee venues that could comfortably hold 400 people and that wasn't a hotel or banquet hall. Really, there are few choices with these parameters. One step inside this building in daylight though and all the magic is gone in a flash. It is garish - bright purples and gold paint sloppily cover up what was once beautiful plasterwork and carved wood mouldings. All the outer surfaces are covered in flat black and the floors and carpets are stained and spotted with old, mashed in gum. The bars are just 4x8 sheets of plywood screwed together and painted black. Not to mention, the place has a bit of a permanent odor. It is sad really, because I love to stand there during a concert and imagine what it must have been like once. And if it were even half as awesome as it once was - it could easily be one of Milwaukee's premiere event venues. I know its current life as a concert venue is a big part of why the building even still stands proubably, but it is sad to see something so intregal to our city's heritage treated with disrespect and history ignored.

While looking for pictures for this post - I came across this fantastic little site. I can't pull the pictures off to post here, so you will have to go there yourself - but there are about 20 or so fantastic historical photos of what the ballroom was like orginally. Some are funny, most are gorgeous. Apparently there was once a pool, bowling alley (which you can still see traces of on the floor of the Rave downstairs) and barber shop in there. And they seemed to have enjoyed seeing how many people they could line up neatly in the massive ballroom.

With the Ambassador Hotel across the street cleaning up and renovating their act and Marquette marching its progression down Wisconsin further, I have to wonder if the Eagles Ballroom will ever follow suit and restore some of its former grandeur.
I hope so. It was amazing once, and you can still catch glimpses of that former life now, hopefully it won't all get covered up in black paint and gum. I think there could be a fine balance to be found between suitable for concerts and perfect for special events such as weddings.