Fireworks season is upon us, it is four days before the Fourth of July and Hubby is... at home sleeping? What is wrong with this picture? Usually at this point is he running on about four hours of napping caught at his desk between 4am and 8am. Things have either been a little slow this year or hubby has managed to be ultra-prepared at the store, allowing him to be home for an *almost* full night's rest. (I'm banking on a little bit of both of these things) I'm not complaining, it is nice having him next to me at some point during the night instead of sleeping alone. But sadly, I know he would trade a few days of that for some ultra-business at the Fireworks store. So go get your fireworks people and make my Hubby smile! Of course, make sure you go to his store - the big yellow building on Hwy G and I-94.

---

Ringo is getting "fixed" today. I admit, I cried on the way home after dropping him off. I just feel horrible leaving him at the vet's office all alone. He doesn't know anyone there...and he doesn't understand what is going on or why I left him.... okay, I can't talk about it. Four o'clock can't come fast enough today so I can call and find out how is doing.

---

My Sister in Law invited me to go check out her new apartment in Milwaukee yesterday. Thanks to three engagement shoots in Madison being rescheduled due to weather, I was able to go. Hubby and I are both looking forward to August when she will be up here in the area full-time, though it will also be kind of different, we have been so accustomed to her being a hour and a half away for the past six years. Welcome back, Karen!

---

I have found THE shoes. As a photographer, I spend all day on my feet. And being a stubborn German, I insist on wearing heels and looking cute doing it. I like to look like a guest at weddings and blend in. I worked in a "upscale" shoe store in college and have spoiled my feet ever since with shoes by Naot, Josef Siebel, Clarks, etc. The price tag doesn't scare me because I am still wearing most of them now, six years later, and they are only starting to wear out. And using the Standard Women's Fashion investment Rule, if you divide $150 (average price of my chosen shoes) by the number of years I have worn them (6), that means they only cost $25 and that is a huge bargain! I can walk all day in those shoes and not have any pain. Only problem is, companies that make shoes that comfortable tend to stay away from heels, and 3/4 of their designs I would never consider (most comfortable shoes are, well, ugly). Finding a comfortable pair of heels I can shoot in all day has been a challenge. Short of investing in some $500 Cole Haans or even more staggering Christian Laboutins, I have been wearing regular heels until dancing starts and then switching to flats and dealing with the consequences. In a moment of desperation on Friday night I went to Stan's Fit for your Feet. There wasn't a ton to choose from in my "cute, dressy, with heels" category, I'm not going to mislead you. But I did find these by Beautifeel:


(please ignore my chipped pedicure and what is supposed to be my ankle looking broken)
They aren't going to get me on any Best Dressed lists, but I will tell you this: After fourteen hours at a wedding, my feet did not hurt even one teensy bit. In fact, it felt like I was wearing tennis shoes all day, only better. And as my old boss used to say, if your feet feel good, then you feel good. So true. Looking at their website this morning I see many cuter options, and they even have a bridal section. If I could have saved my feet from the bruising they endured on my wedding day in the name of fashion...

---

Saturday is the Tom Petty concert - I can. not. wait. Though I do wish I could squeeze a trip in to Summerfest before then. I hope all of you get a chance to check it out this week. For my blog readers that don't live in Wisconsin, Summerfest is the World's Largest Music Festival (no joke) and runs for 11 days straight with constant music on something like 15 stages and all the amazing food and beer you can consume. It is also the best people watching you will ever see in your life.

---

I'm hoping my readers can help me solve this little conundrum. I provide these cute little cards at weddings that are personalized with a photo of the couple and info on how to view their wedding images: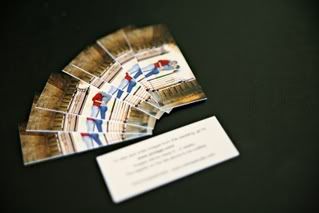 Usually, we put these at the guestbook table. I don't put up a sign or my own business cards and it is all cleared with the couple ahead of time. However, very few people take the little cards. Why is this? Do you not care to see the pictures from the wedding (possibly some of yourself)? Do you think that they are business cards and so you recoil in horror? Advise me on this please because I'm not loving spending the money on the cards only to have them still sitting there, mostly untouched at the end of the night. Would it help if they were in a little box with a sign that said something to the effect of "To see photos from this wedding take a instruction card" ? When you are a guest, what is your perception? Or, have you seen something that works in this area?

---

Have a Happy Monday!