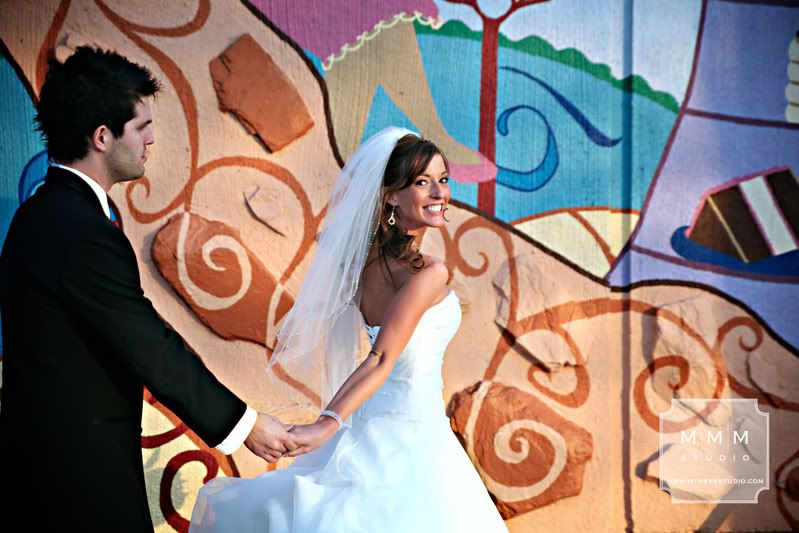 She waited nervously on the small stage in the cafe, adjusting her train, fiddling with her veil and earrings, she wanted to be sure she looked just right. Hours of preparation had gone into this moment, years had gone into this day, and here it was. He walked into the room, blindfolded and trusting the guidance of his Best Man to lead him to his bride. He could hear voices, giggles, the click of the camera, and then her voice was clear "Can you find me?". "I'm trying" he replied and was prodded a bit further until, yes there it was - her hand. She pulled him in front her and said "Okay now you can look".





Katie and Dave were my first "First Look" couple, and the moment was so wonderful! They both said that it did not take away at all from seeing each other at either end of the aisle, and the private (well besides me and my lens) ten minutes they got to share before marriage was upon them are some of the most priceless ones they have had I'm sure. Witnessing it firsthand was a lucky treat indeed. For this couple it was truly the right decision - all the stress, worries and panic of the day melted away when their eyes met. I am hereby encouraging anyone considering this to do it. You won't regret it.

First, I must say that there are so many wonderful pictures from this day. I had to do some seriously brutal editing to get the slideshow down to one song. I felt like I was truly a friend at this wedding, not just a photographer thanks to the warmth with which Katie and Dave have welcomed me into their lives, and also their family members that day as well. Plus, Katie and I share a good friend; Monica from the White Box, who served as a bridesmaid. Having her there made the day extra fun for me. I always fall in love with each of my couples at some point during the process. Often it is during editing, when I get to sit down and really spend time looking at their images and reliving the moments of their day. For Katie and Dave it was watching their slideshow at the reception. Dave's father did such a wonderful job at putting this together, it was such a great expression of parental love to both of them. I have never seen an entire hall of guests sit in rapture of a slideshow - but these people did. And for good reason. It was touching, funny, and memorable. He even interspersed small video snippets in with the pictures, showing Katie as a young girl singing or Dave riding his bike.

Katie and Dave's day was chock full of moments of high emotion. There was the moment when their parents joined them on stage during the ceremony, along with their siblings to surround them as the entire congregation said a prayer just for them and their marriage. The love and care was seeping from these people. There was the private prayer they said together after lighting their unity candle, while a good friend sang. There was the incredibly moving and touching speech that Katie's father gave after dinner - such love and devotion. Watching Katie's mom look on for the Father/Daughter dance. Oh yes, and one of my favorite moments was watching their first dance as Dave sang every word of their song to his new wife. I just love it when a wedding day has such unleashed emotion and the participants really let themselves feel it.

Katie got ready in this tiny bathroom, and everyone kept peeking in the doorway to see the action: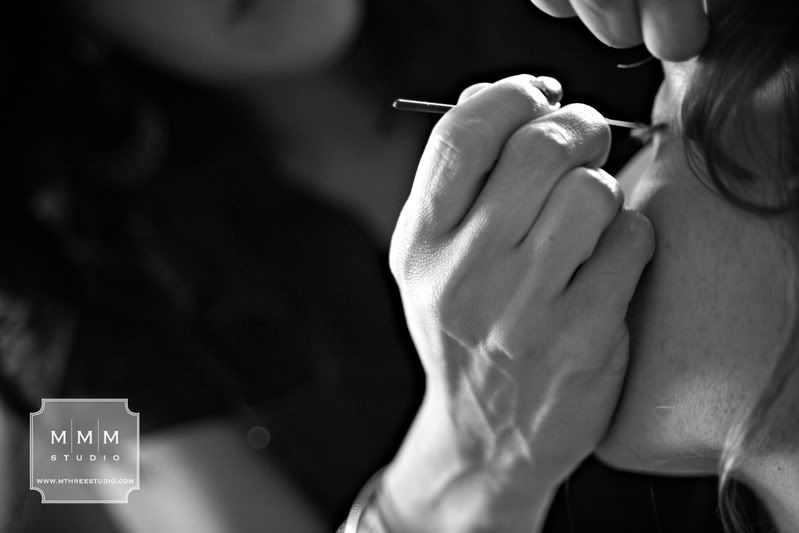 She wasn't sure that her dress would safely go over her veil and hairdo, so a little extra luck was being put forth: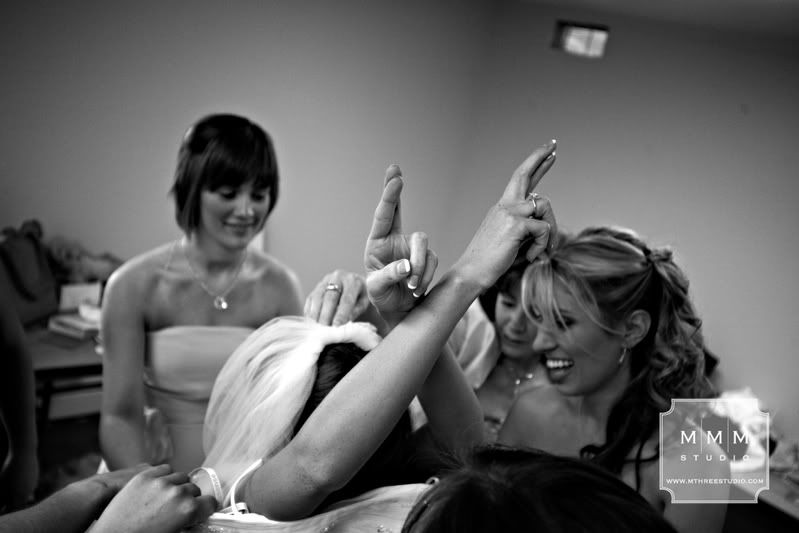 The ushers had a great time decorating the mustang the couple used as a getaway car:



Yummy cake (so I heard - Harmony and I didn't catch any):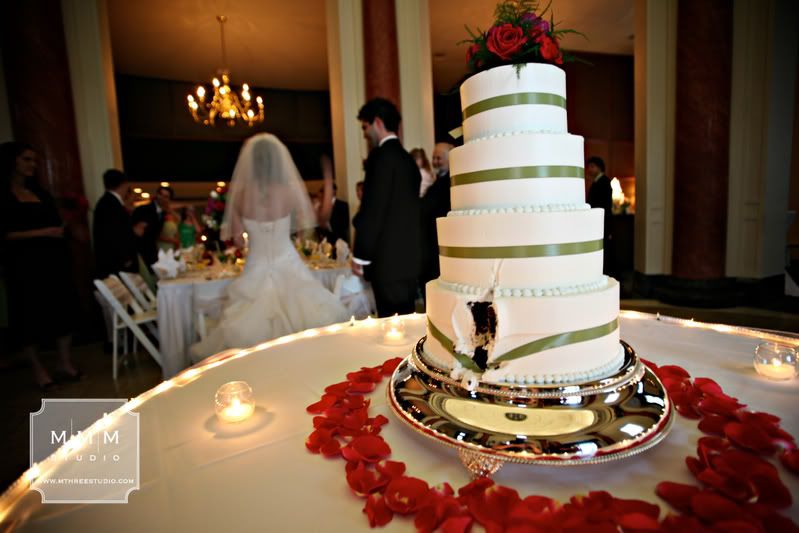 Handsome Men: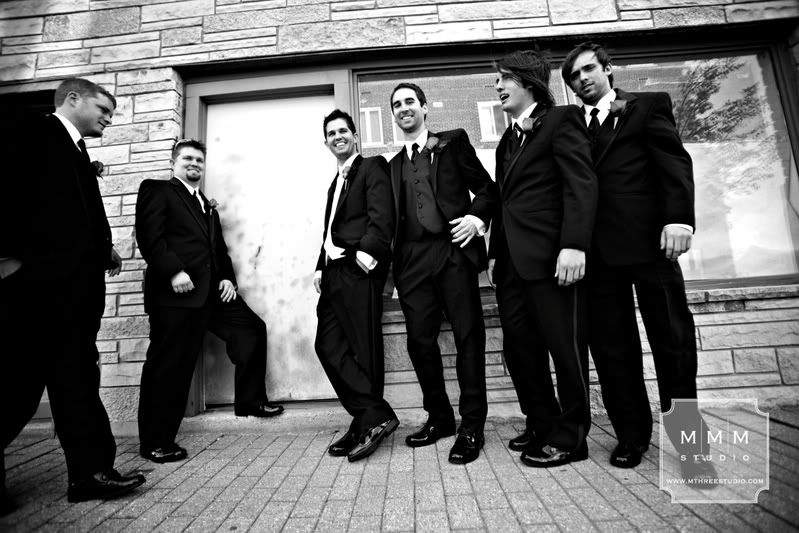 Is there anything better than a laughing bride?:




Caught during the first dance:



Watching the slideshow: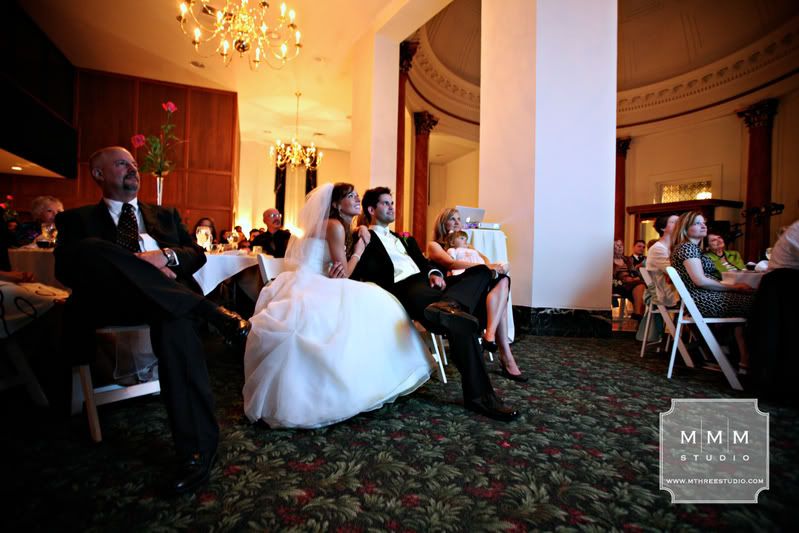 I love this series, it is just so Katie and Dave:



This one might show up in my own stuido:



Please someone, buy this for them in a nice big canvas wrap for their new home:



And there you have it - two Wisconsin kids who met half a world away are now on their way to California on a whole new adventure as husband and wife.


Enjoy the slideshow. I used their first dance song, because it was just too beautiful to pass up. I hope Mr. David Barnes won't mind.