Katie & Aaron met thru a mutual friend, as so many of the couples I meet do. In truth, who better than your friends to correctly identify the person that would be you other half?





She banged her fingers against the palm of her hand, trying to get some circulation running thru them. She had agreed to try out snowboarding at Aaron's insistence, but man, it was a cold activity! A few runs down the hill showed her it was plenty of fun, and she was willing to be this uncomfortable to be with Aaron and having this much fun. Jumping off the ski lift, she wondered if she would make it down the mountain safely this time. He had shown her all the tricks he knew for feeling in control as she surfed the snow down, but there was still that uneasy queasy feeling in the pit of her stomach right before her board tipped over the edge. Faith and trust. That is what she needed this time before she let go of the top of the mountain. Faith and trust. She looked at Aaron. He smiled and then crouched down to adjust a binding on his boot. She looked at the path ahead of her - smooth in parts, twisting a little with a few stomach-in-your-throat jumps available for the choosing. "faith and trust" she mumbled to herself under her breath, gathering the resolve to make another run down the mountain. She glanced over at Aaron to see if he had finished with his boot. He had and was now looking up at her - a ring in his hand and a question in his words. The world started to spin a little and that queasy feeling came back to her stomach. She looked into his face. "Faith and trust" she thought to herself, looking at him, that she knew she had. This was going to be a great ride down.




For Katie & Aaron's engagement session we met at her grandparent's lake house on Lake Okauchee (no idea if I spelled that right). It has been in the family for 80 years and was just the perfect location. It had this wonderful summer camp type of feel where everything has a history, a patina and a charm about it that is just so outdoorsy and laid back. Aaron got his first ride on a hammock (I believe he is now a convert, and I suspect he spent the rest of the afternoon in it), and we got to hang out with their adorable little chihuahua Axl. I thought Ringo was small, but Axl is tiny.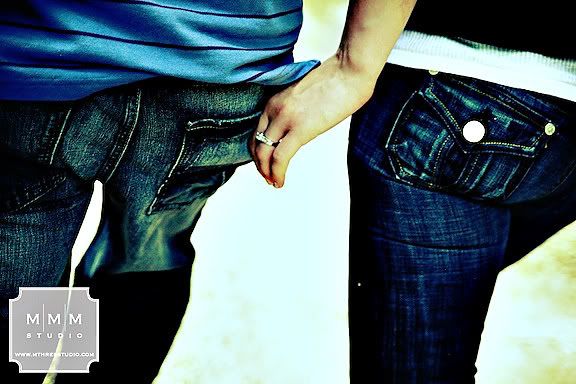 My little snippet above was inspired by Aaron's telling of their engagement story - he actually said he asked her and then "It was all downhill from there" - you can see him say this in a few of the slideshow shots - I thought it was utterly hilarious.
Check it out: